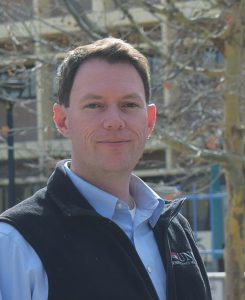 Justin T. Baca, M.D., Ph.D.
Assistant Professor
Department of Emergency Medicine
Health Sciences
The University of New Mexico
Dr. Baca's research focuses on developing point-of-care diagnostics and devices. As a practicing emergency medicine physician with a research background in analytical chemistry, he works with a broad range of clinicians, scientist, and engineers to develop and test new technologies in a clinical setting.  His recent work includes developing a hand-held sensor for rapid detection of Ebola virus, developing a device to aid in transporting bariatric patients, and developing an autonomous autoinjector to reverse opioid overdose.
He is also currently developing microneedle technologies to extract and analyze interstitial fluid. The overall goal of the project is to develop wearable, minimally invasive sensors to monitor biochemical changes in vivo. As a CTSC KL2 scholar, he is applying this technology to understand the development of chronic pain in acute inflammatory neuritis.
PENDING U.S. PATENT APPLICATIONS (UNM-AFFILIATED)
In Vivo Extraction of Interstitial Fluid Using Hollow Microneedles
Device and Method for Interstitial Fluid Extraction
Wearable Auto Injector
Method to Quantify Exosome Concentration
Color Changing Detection Patch Utilizing Microneedle Sampling of Interstitial Fluid
Mild Traumatic Brain Injury Diagnostic Immunochromatographic Microneedle Patch
Bariatric Lift Assist Device
Needle Guard Tip Designs for Microneedle Holders Utilized for Interstitial Fluid Extraction
Coaxial Microneedle Electrochemical Sensor

Technologies listing this individual as an inventor, may be found at the UNM Flintbox Researcher page. Each of the respective technologies will display updated patent and publication information.