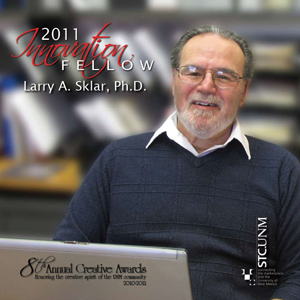 Dr. Larry Sklar was honored as the 2011 STC.UNM Innovation Fellow for his work as a top innovator at the University of New Mexico Health Sciences Center. The statistics tell an impressive story. During his time at UNM he has disclosed more than 50 technologies, received 19 patents and copyrights, had his technologies licensed to 11 companies and has had two startup companies created around his inventions. As Co-Founder of Intellicyt Corporation, an Albuquerque company developing and selling his HyperCyt® platform technology for flow cytometers, he has shown his ability to develop technologies that can be successfully commercialized.
But an equally compelling story is how over the course of the past dozen years Larry has dedicated himself, as head of the New Mexico Molecular Screening Center (NMMSC), to transforming flow cytometry technology into the benchmark for high throughput flow cytometry. In doing this, he has given a tool to researchers everywhere to discover more effective ways to understand and treat cancers, infectious diseases and many other biological applications. Flow cytometry technology was developed in the 1970s for DNA research. Flow cytometers measure cell fluorescence. Cells in a sample flow very rapidly in single file through a laser beam which excites fluorescence from fluorescent probes attached to the cells. Flow cytometers can analyze cells at 50,000-70,000 cells per second and the fluorescence on 16 probes per cell. But traditional flow cytometers can't measure multiple collections of cells rapidly. The HyperCyt® platform speeds up the process of analyzing multiple cell collections so that cytometers using the platform can now analyze 40 collections of cells in approximately 1 minute. Innovations to the platform being currently developed will quadruple this amount. The platform technology also increases a cytometer's ability to do multiplexing, a process that looks at multiple targets on cells simultaneously. Researchers using the
technology have been able to look at 6 targets but believe that it will be possible to analyze up to 20 targets in the future.
What is special about the Center is that researchers are simultaneously creating improvements to the HyperCyt® as it is being used to discover new compounds and new uses for existing compounds. It is a synergistic relationship—the more molecules the machine can process, the larger the molecular libraries grow. The more compounds there are to screen, the faster and more complex the machine has to be. These expanding innovations in both the tool and the screening process are leading to exciting applications for drug discovery. With the aid of the HyperCyt® technology, researchers in the group are studying how transporter molecules in cancer cells protect those cells from chemotherapy drugs, and how a similar process centered around quorum sensing in a strain of staph bacterium makes it resistant to antibiotics. The researchers test the molecules in the Center's molecular library to find compounds that can be used to solve these biological conundrums. Future applications of the HyperCyt® technology could lead to a quick and effective way to find a compound that will either enhance the effect of chemo drugs on cancer cells or act as an effective agent itself for patients whose cancers are drug resistant.
Dr. Sklar might tell you that collaboration is and has been the most important part of his innovation process. And he would be right. But successful collaboration requires leadership and Dr. Sklar's leadership has been pivotal to his successful collaborations. He leads by example. Through his own dedication to the mission of finding compounds that can be used and repurposed for drug discovery, he has created a team of fellow scientists who are committed to the mission as well. He manages a team of over 40 scientists who collaborate not only with the other 8 national NIH-funded molecular-screening centers around the nation but with scientists and engineers from LANL, Sandia, and internationally. And it took his leadership to guide his team of researchers in securing more than $40 million in NIH funding for the Center's ongoing work and for the renovations currently underway on campus for the Center's new home.
That leadership is being recognized locally and nationally. Dr. Sklar is the recipient of the 2009 Technology Excellence Achievement Award from the New Mexico Technology Council, the state's largest advocacy group for technology-related business, and in February was inducted into the American Institute for Medical and Biological Engineering's College of Fellows. AIMBE Fellows represent the top 2% of medical and biological engineering researchers.
The vital research and development of new technologies that Dr. Sklar and his team are creating at the New Mexico Molecular Screening Center will continue to grow exponentially. The beneficiaries of these new discoveries and delivery systems could be you, or someone you love—or it could be the stranger on the other side of the globe. That's an extraordinary impact and why we honor Dr. Larry A. Sklar as the 2011 Innovation Fellow.