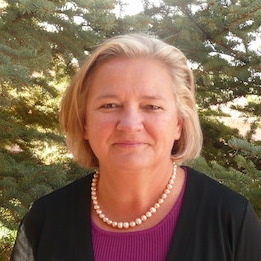 CEO & Chief Economic Development Officer, UNM Rainforest Innovations
BS – Electrical Engineering – University of Michigan
MS – Public Administration – Iowa State University
Venture Capital Institute
Business/Research Background
Lisa Kuuttila joined UNM Rainforest Innovations (UNMRI), the University of New Mexico's technology-transfer and economic development arm, as President & CEO in 2003. She is currently CEO & Chief Economic Development Officer of the organization. She works with the UNM Rainforest Innovations Board of Directors in developing strategies for implementing UNMRI's vision to play a vital role in New Mexico's economic development and to be a leader in technology commercialization. Under her leadership, UNM Rainforest Innovations is substantially growing its program using the Rainforest model to develop an innovation ecosystem in New Mexico.
Ms. Kuuttila has more than 30 years of prior leadership experience in technology commercialization and entrepreneurial ecosystem development. This includes positions as Assistant Vice President for Technology Commercialization at Purdue Research Foundation; Director, Technology Commercialization, University of Georgia; and Director, Office of Technology Commercialization, Center for Advanced Technology Development, Iowa State University. Her prior experience also includes a consulting practice that provided strategic marketing and technology-transfer consulting services for a wide variety of well-known technology corporations, universities and foundations, including Stanford University. She began her career in industry in several engineering and technology-marketing positions.  Lisa received a B.S. Electrical Engineering from the University of Michigan and an M.S. in Public Administration from Iowa State University.  She is also a graduate of the Venture Capital Institute.
Particular Knowledge and Skills
Ms. Kuuttila has exhibited exceptional skills in the marketing and start-up company aspects of technology commercialization, having significantly increased the number of spin-off companies at each university she has served. She also has substantial expertise in university-based equity transactions and managed the seed-capital venture fund on behalf of Purdue Research Foundation.
Ms. Kuuttila has published extensively in her field, is an active speaker and has made presentations throughout her career to many organizations, such as the Association of University Technology Managers (AUTM), the Association of University Related Research Parks (AURRP), the Licensing Executives Society (LES), and other national and international conferences and forums. Ms. Kuuttila serves on the boards of the New Mexico Angels, a private membership organization for qualified angel investors, and the Coronado Ventures Forum, a non-profit corporation focused on development, education and networking opportunities for entrepreneurs and angel and professional investors. She is also affiliated with a number of other initiatives.