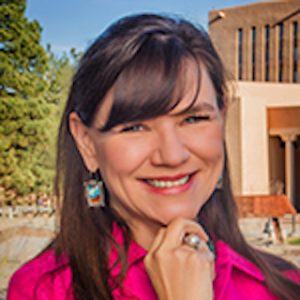 Chair, UNM Board of Regents
President & CEO, SRE Wellness, Inc. (dba Azuca) 
BA – International Relations, Harvard University
MBA – Stanford University 
Business/Research Background
Kim Sanchez Rael is a passionate business leader, a startup veteran and investor in innovation. She has extensive experience as an operating executive and as a venture capitalist, focusing on early-stage investments in technology companies. She is currently the President and CEO of SRE Wellness, Inc. (dba Azuca).
Ms. Sanchez Rael has an extensive background in both startup and Fortune 50 Companies. Before her career in venture, she co-founded an advanced energy company and held numerous management positions at Intel, where she managed a $200 million capital budget, led planning for a $1 billion expansion, and held roles in finance, operations and strategic planning. Prior to Intel, she served as an aide in the U.S. Senate, focusing on foreign affairs and science and technology policy.  
Particular Knowledge and Skills
Ms. Sanchez Rael has broad experience on both corporate and community boards. Her corporate board experience spans multiple industries, including water technology, semiconductors, software-as-a-service, digital media and advanced materials companies. Her community board service includes the New Mexico State Board of Finance, Presbyterian Hospital, the Albuquerque Public Schools Foundation and the Arts Alliance. She was the Founding President for a Montessori Charter School, and has been featured as a New Mexico Business Weekly Power Broker and Top 10 Women of Influence. Ms. Sanchez Rael is a member of the prestigious international Society of Kauffman Fellows, is a Rotary Scholar and is a member of the Board of Directors of the International Women's Forum-New Mexico.