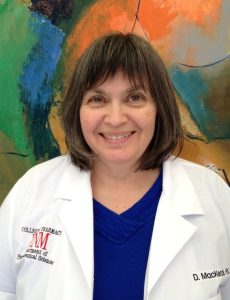 Research Assistant Professor, Department of Pharmaceutical Sciences
Health Sciences Center
The University of New Mexico
Dr. MacKenzie has disclosed two inventions to STC and received two UNM-affiliated issued U. S. patents for her cancer treatment technologies.
Cancer treatment technologies developed by Dr. Mackenzie include methods and compounds that modulate autophagy (i.e., recycling of cellular components) in cancer cells. The screening assay she developed, using high-throughput flow cytometry, has identified and tested off-patent drugs as part of the drug repurposing program at UNM's Center for Molecular Discovery. The compounds found through these screens increase intracellular granularity associated with autophagy and decrease the cellular adherence of cancer cells, inhibiting proliferation and leading to cancer cell death. New drug candidates for the treatment of prostate cancer, melanoma, and other cancers have been identified using these methods.
Dr. MacKenzie's research focuses on cancer biology and metals immunotoxicology. Her research efforts are centered around understanding mechanisms of immune regulation and suppression. An experienced molecular biologist, she has studied the actions of the androgen receptor in prostate cancer as a target for prostate carcinogenesis and therapy for advanced disease. Dr. MacKenzie is an investigator on the Navajo Birth Cohort Study, which studies the effects of mixed metal exposure, including arsenic and uranium, on birth outcomes and child development on the Navajo Nation. She is co-PI on a research project supporting the Center for Native American Environmental Health Equity, investigating the associations of metals exposure with immune dysregulation and development of biomarkers of autoimmunity within the Navajo, Crow and Cheyenne River Sioux tribes.
ISSUED U. S. PATENTS (UNM-AFFILIATED)
8,835,506 Methods and Related Compositions for the Treatment of Cancer, issued September 16, 2014
9,326,974 Methods and Related Compositions for the Treatment of Cancer, issued May 3, 2016