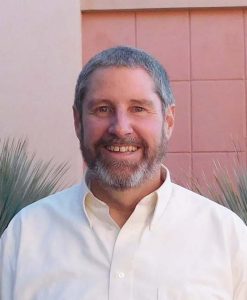 Research Professor, Department of Chemical & Biological Engineering
Associate Director, Center for Biomedical Engineering
The University of New Mexico
Pressure Analysis Company (PAC) (STC start-up)
Dr. Sibbett has disclosed 10 inventions to STC, received four UNM-affiliated issued U. S. patents, has three pending U. S. patent applications, and has an option to license agreement with start-up Pressure Analysis Company for his pressure sensing technology.
Since the 1980s, there has been interest in integrating active electrical devices with pliable media such as paper, fabric, or thin polymer films as well as tactile sensing technologies. However, developing such devices is often challenging because of the difficulty in fabricating reliable electrical connections over the lifetime of the device.
Dr. Sibbett's pressure-sensing array technology provides reliable electrical connection suited for pliable, active electronic devices. The array is highly dense yet flexible and can be scaled to produce large sensing arrays. Potential applications include intubation training, prosthetic fitting, patient monitoring, and sports-related injury such as location-specific concussion monitoring. Pressure Analysis Company has optioned the technology from STC and developed a skullcap (called SmackCap™) embedded with the sensors that wirelessly measure in real-time pressure from hits to the head of athletes wearing the cap.
To date, the design and fabrication of conventional fuel cells has focused on various engineering challenges, such as optimizing catalyst performance versus cost, and improving the separation of fuel from oxidant. Little attention has been paid to (1) high-volume manufacturing, (2) device scaling, (3) robustness of operation in the field, (4) footprint, (5) autonomous operation, and (6) optimization for key applications, such as sensing, water purification, and distributed power generation.
As a result of a long-standing research collaboration with UNM Distinguished Professor Plamen Atanassov, Dr. Sibbett participated in the invention and development of a state-of-the-art paper-based fuel cell that can be easily manufactured in high volume and at low cost. The paper-based fuel delivery system enables a constant volumetric flow rate through the cell and can be built at both mini- (<1 cm3) and macro-scales (>1 m3), with proportionate scaling in output from microwatts to kilowatts of power. The technology provides solutions to environmental energy harvesting devices that operate at low-current densities.
Dr. Sibbett's research focuses on ultra-low-cost medical diagnostics, protein separation, microfluidics, pressure-sensing fabric, paper-based fuel cells and enzyme cascades.
ISSUED U. S. PATENTS (UNM-AFFILIATED)
7,316,320 Sorting Charged Particles, issued January 8, 2008
7,402,229 Fabrication and Use of Semipermeable Membranes and Gels for the Control of Electrolysis in a Microfluidic Device, issued July 22, 2008
7,976,691 Fabrication and Use of Semipermeable Membranes and Gels for the Control of Electrolysis, issued July 12, 2011
9,257,709 Paper-Based Fuel Cell, issued February 9, 2016
PENDING U. S. PATENT APPLICATIONS (UNM-AFFILIATED)
Fabrication and Use of Semipermeable Membranes and Gels for the Control of Electrolysis
Semi-Quantitative Lateral Flow Assays
Improved Pliable Pressure-Sensing Fabric