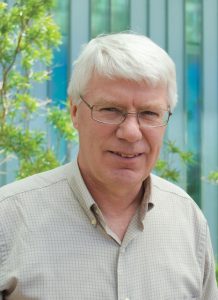 Associate Director for Basic Research, UNM Comprehensive Cancer Center
Professor and Vice Chief, Department of Internal Medicine, Division of Molecular Medicine
Health Sciences Center
The University of New Mexico
Dr. Tomkinson has disclosed three inventions to STC, received three UNM-affiliated issued U. S. patents, and has three pending U. S. patent applications for his DNA repair inhibitor technologies for the treatment of cancer.
There is growing interest in the identification of DNA repair inhibitors that will enhance the cytotoxicity of DNA-damaging chemotherapy drugs. Combining the two have the potential to increase the killing of cancer cells and reduce damage to normal tissues and cells if either the chemotherapy or the inhibitor could be selectively delivered to the cancer cells. Since DNA ligation (linking) is required during DNA replication and is the last step of almost all DNA repair pathways, DNA ligase inhibitors will have multiple effects, including inhibiting cell proliferation and increasing sensitivity to DNA damage.
Dr. Tomkinson's cancer technologies are small molecule inhibitors that sensitize cancer cells to DNA damage. These compounds and their derivatives are being evaluated as candidates for drug development. In addition, Dr. Tomkinson has identified a DNA repair abnormality in cancer cells that can be detected based on the steady state levels of two DNA repair proteins, PARP1 and DNA ligase III. Notably, cancer cells with this abnormality are hypersensitive to a combination of DNA ligase and PARP inhibitors. Thus far, the DNA repair abnormality has been detected in therapy-resistant forms of leukemia and breast cancer.
Dr. Tomkinson is an international expert in the DNA repair mechanisms that prevent cancer by maintaining genome stability and in understanding how these pathways are perturbed in cancer cells. His work is leading to the development of new therapies which target alterations in DNA repair in cancer cells. His lab is focused on delineating the cellular functions of eukaryotic DNA ligases that are key enzymes in DNA replication, repair, and recombination using a combination of in vitro and in vivo approaches. These studies have provided mechanistic insights into known and novel DNA repair pathways.
ISSUED U. S. PATENTS (UNM-AFFILIATED)
8,445,537 Compounds that Inhibit Human DNA Ligases and Methods of Treating Cancer, issued October 9, 2009
9,132,120 Targeting Abnormal DNA Repair in Therapy-Resistant Breast and Pancreatic Cancers, issued March 4, 2013
9,073,896 Compounds That Inhibit Human DNA Ligases and Methods of Treating Cancer, issued April 17, 2013
PENDING U. S. PATENT APPLICATIONS (UNM-AFFILIATED)
Targeting Abnormal DNA Repair in Therapy-Resistant Breast and Pancreatic Cancers
Compounds That Inhibit Human DNA Ligases and Methods of Treating Cancer
Synergistic Enhancement of 5-Fluorouracil Cytotoxicity by Deoxyuridine Analogs in Cancer Cells