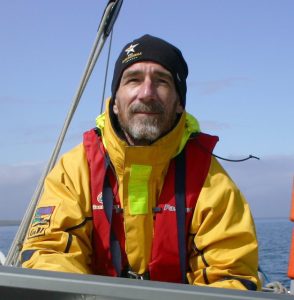 Mark Hauswald, M.D.
Professor Emeritus, Department of Emergency Medicine
Director, Global Health Program
Associate Dean Emeritus
Health Sciences
The University of New Mexico
Telluride Medical Solutions, Inc. (STC startup)
Dr. Hauswald has disclosed five inventions, received four UNM-affiliated issued U. S. patents, has one pending patent application, and has a license agreement with startup Telluride Medical Solutions, Inc. for his patient-controlled analgesia device.
Many medications need to be titrated to effect. For some drugs, particularly for pain medications, achieving the optimal amount is difficult because patients differ in their need and their tolerance for side effects. The best method is to give small doses frequently and reassess after each dose, but when done by a medical provider this is labor intensive and expensive. Allowing the patient to titrate their own dose has been shown to increase patient satisfaction, minimize side effects and reduce the amount of medication that the patient needs. Electronic patient-controlled analgesia machines (PCAs) solve this problem and are standard in post-operative care but are expensive, fragile and time consuming to set up.
Dr.  Hauswald has developed a PCA that allows patients to safely titrate their own pain medication in a timely manner.  The device is purely mechanical, inexpensive, disposable, easy to set up, simple to use and fail-safe. This technology is particularly applicable for ambulance care, acute/urgent care clinics, emergency departments and other settings where loading doses of medications are given to treat acute pain and given prior to painful procedures.
Dr. Hauswald has also developed an all-mechanical and very low-cost infusion pump designed to be used in low- resource settings. This will allow accurate titration of drugs, for example, to treat shock or during labor in places without reliable electricity. The device was a finalist in the 2016 "Saving Lives at Birth Grand Challenge" sponsored by USAID, The Bill and Melinda Gates Foundation and the governments of Norway, Canada, the UK and Korea.
Dr. Hauswald's research focuses on global health, especially postpartum hemorrhage and general emergency medicine.   In addition to his international work at UNM, he also provides clinical service for the U.S. Public Health Service.
ISSUED U. S. PATENTS (UNM-AFFILIATED)
8,920,382 Patient-Controlled Analgesia Device, issued December 30, 2014
9,744,292 Infusion Device, issued August 29, 2017
9,592,349 Patient-Controlled Analgesia Device, issued March 14, 2017
10,086,132 Infusion Device, issued October 2, 2018
PENDING U. S. PATENT APPLICATIONS
Emergency Medical Transport System
Technologies listing this individual as an inventor, may be found at the UNM Flintbox Researcher page. Each of the respective technologies will display updated patent and publication information.