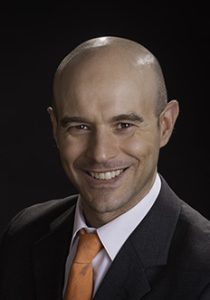 Fernando Moreu, Ph.D., P.E.
Assistant Professor
Department of Civil, Construction, & Environmental Engineering
Department of Electrical & Computer Engineering
Department of Mechanical Engineering
Center for Advance Research Computing (CARC)
The University of New Mexico

Dr. Moreu's main research explores the interface between human and infrastructure, using of new technologies to measure structural responses of structures under (or after) extreme loading events. Dr. Moreu's research explores how bridge responses under revenue service traffic collected and analyzed with his algorithms can be used to inform bridge management decisions. This research also include results about reference-free measurement of displacements using drones and lasers, as well as automatic structural health assessment and prognosis using robots that can impact the structure, listen to the tap, and classify whether they are safe or not using machine learning techniques. Dr. Moreu is also developing new applications on Augmented Reality that can be used to increase the ability of inspectors during disasters. The research areas of Dr. Moreu want to advance the areas of smart cities, adapting SHM and wireless sensors, machine learning, and artificial intelligence towards asset management, sustainability, and resilience practices.


ISSUED U.S. PATENTS (UNM-AFFILIATED)
10,641,898 Structural Displacement Measurement Using Unmanned Aerial Vehicles Equipped with Laser, issued May 5, 2020
PENDING U.S. PATENT APPLICATIONS (UNM-AFFILIATED)
UAV-Enabled Electromagnetic Health Monitoring for Resilient Wind Turbines
Total Reference-Free Displacement Estimation Using Simplified, Low-Cost Sensors for Railroad Bridge Management
Tap Testing Robot
Crash Beam for Railway Bridge Protection Against Semi-Trailer Truck-Railway Bridge Collisions
Non-Contact Dynamic Displacement Measurement of Structures Using a Moving Laser Doppler Vibrometer
Augmented Sensing of Structures for Real-time Inspections
Design, Development, and Use of a Time Machine with Augmented Reality for Change Detection
Design, Development, and Use of Augmented Reality for Drivers, Pilots and First Responders Training
Design, Development, and Use of Augmented Reality for Real-time Crack Width Sensing and Inspection
The Automatic Quality-Control Quality-Assurance Inspector (AQQI)
Design, Development, and Use of Augmented Reality (AR) for Structural Models
Design, Development, and Use of Augmented Reality for enhanced Human-Animal Communications and Interfaces with their Environment
Monitoring reference-free contact-free total displacements and movements with a UAS equipped with lasers and computer-vision
Tensegrity Stinger

Technologies listing this individual as an inventor, may be found at the UNM Flintbox Researcher page. Each of the respective technologies will display updated patent and publication information.