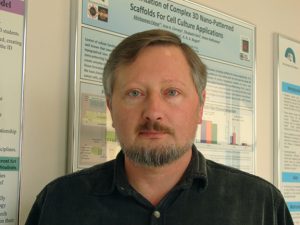 Gennady Smolyakov, Ph.D.
Research Associate Professor
Department of Electrical & Computer Engineering
Center for High Technology Materials
Dr. Smolyakov's research interests are in the areas of semiconductor injection lasers, physics and simulation of semiconductor quantum-well and quantum-dot devices, colloidal quantum dots, radiation detection, and plasmonic solar water splitting. Dr. Smolyakov and his co-inventors have proposed a new concept of ultrafast transmitters for 4G and 5G wireless networks and data centers, based on strongly injection-locked semiconductor ring lasers. The successful demonstration of the concept has the potential for huge societal impact by increasing the transmission capacity of fiber-based networks to at least 100 Gbit/s per channel without any multiplexing, pushing us closer towards a truly Networked Society.
ISSUED U.S. PATENTS (UNM-AFFILIATED)
9,054,492 Light-Emitting Device Having Photon-Lifetime Modulation, issued June 9, 2015
9,644,141 Halide-Based Scintillator Nanomaterial, issued May 9, 2017
9,116,246 Thermal Neutron Detectors Based on Gadolinium-Containing Nanoscintillators, issued August 25, 2015
8,680,469 Nanocrystalline Optically-based Neutron Irradiation History Sensor, issued March 25, 2014
8,431,041 Halide-Based Scintillator Nanomaterial, issued April 30, 2013
8,009,712 Light-Emitting Device Having Injection-Lockable Semiconductor Ring Laser Monolithically Integrated with Master Laser, issued August 30, 2011
10,770,861 Light-Emitting Device Having Self-Cooled Semiconductor Laser, issued September 8, 2020
PENDING U.S. PATENT APPLICATIONS (UNM-AFFILIATED)
Ring Laser Integrated with Silicon-On-Insulator Waveguide
Method for Generating Single Picosecond Optical Pulses with Substantially Suppressed Transient Emission Tail in Semiconductor Diode Lasers
Optically Cooled Platform for Thermal Management Applications
Technologies listing this individual as an inventor, may be found at the UNM Flintbox Researcher page. Each of the respective technologies will display updated patent and publication information.