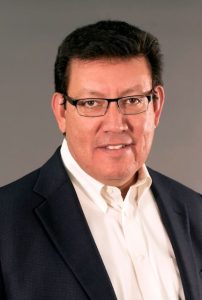 Gabriel P. López, Ph.D.
Vice President for Research
Professor, Department of Chemical & Biological Engineering
Founding Director and Member, Center for Biomedical Engineering
The University of New Mexico
2016 RAINFOREST INNOVATION FELLOW
A great innovator innovates everywhere. As the 2016 STC Innovation Fellow, this is particularly true of Dr. López who was recognized for his innovative technologies and leadership at UNM.
His technologies are unique micro- and nanomaterials and devices that are being used to develop innovations in flow cytometers; particle separation for diagnostics, rare cell detection and environmental sensing; and antimicrobial coatings for better ways to disinfect surgical instruments, medical devices and filtration systems.
Dr. López used cutting-edge MEMS manufacturing techniques and applied it to particle separations.  These devices set the stage for other developments in the field, resulting in a suite of technologies that is now being applied to cell separations for liquid biopsies. The innovative concept behind his nanostructured matrices technology relies on how cells interact with flow and stationary obstacles in a field of flow, which enables high-throughput, label-free isolation and purification of different cell types.  The technology is broad enough that it can be applied to many different assays that in the past have relied on cumbersome sample preparation techniques.
The problems he has focused on solving in his research require a collaborative approach, bringing together experts in many fields in order to create biomedical engineering technologies. The Center for Biomedical Engineering (CBME), established by Dr. López in 2005 in order to connect engineers with medical researchers to create new medical devices and treatment methods, now is home to the Biomedical Engineering Graduate Program, which offers to students within New Mexico, for the first time, formal training in research and innovation in this economically important area.
Technologies listing this individual as an inventor, may be found at the UNM Flintbox Researcher page. Each of the respective technologies will display updated patent and publication information.