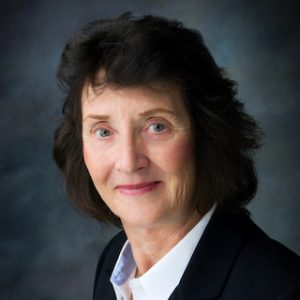 Angela Wandinger-Ness, Ph.D.
Professor & Vice Chair for Research
Department of Pathology
The Victor and Ruby Hansen Surface Endowed Professor in Cancer Cell Biology and Clinical Translation
Associate Director for Education, Training and Mentoring, UNM Comprehensive Cancer Center
The University of New Mexico
2019 RAINFOREST INNOVATION FELLOW
As the 2019 Rainforest Innovation Fellow, Dr. Wandinger-Ness is recognized for her pioneering work in establishing that R-ketorolac, a component of the post-operative pain drug Ketorolac, inhibits the activity of Rac1 and Cdc42 GTPases in ovarian cancer cells to keep the cells from growing and spreading.
An expert in cell biology and protein biochemistry, Dr. Wandinger-Ness has been studying enzymes called GTPases for nearly 30 years. GTPases are molecular switches that control cell behavior, regulating how cells break down, organize, move around and attach to one another.  They are the biological catalysts in cells and when their process goes awry, then cells proliferate uncontrollably.
Dr. Wandinger-Ness and her research team have studied the Rac1 pathway to understand how inhibitors might benefit cancer patients and identified a lead candidate, R-ketorolac, and ovarian cancer as a first indication where the rationale for targeting Rac1 is compelling. Her studies have shown that R-ketorolac inhibits Rac1 activity in ovarian tumor cells, preventing them from attaching to the abdominal cavity and invading the tissue, and was well tolerated by patients given the compound postoperatively. The researchers believe that R-ketorolac will benefit patients as maintenance therapy or is suitable for those who are resistant to platinum-based and PARP-inhibitor treatments.
All technologies listing this individual as an inventor, may be found at the UNM Flintbox Researcher page.  Each of the respective technologies will display updated patent and publication information.