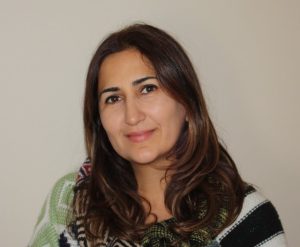 Ladan Arissian, Ph.D.
Research Assistant Professor
Department of Electrical & Computer Engineering
Member, Center for High Technology Materials
Dr. Arissian's research area is in optical metrology and active sensor development. She exploits coherence in ultrashort pulse generation known as "frequency combs" for development of sensors based on measurement of optical path differences. Another active area of her research is ultrafast spectroscopy and remote sensing.
ISSUED U.S. PATENT (UNM-AFFILIATED)
7,664,149 Auto-Stabilization of Lasers By Means of Resonant Structures, issued February 16, 2010
8,446,592 Scanning Phase Intracavity Nanoscope, issued May 21, 2013
8,488,639 Systems and Methods Having a Frequency Comb, issued July 16, 2013
8,929,408 Multi Comb Generation with a Mode Locked Laser Cavity, issued January 6, 2015
9,653,877 Nested Frequency Combs, issued May 16, 2017
9,726,472 Intracavity Fiber Sensors, issued August 8, 2017
9,859,677 Nested Frequency Combs, issued January 2, 2018
9,958,252 Intracavity Fiber Sensors Using Two Orthogonal Polarization Modes in an Optical Parametric
Oscillator Cavity Coupled to a Sensing Element, issued May 1, 2018
10,317,212 Enhancement of the Phase Response of Intracavity Phase Interferometers, issued June 11, 2019
PENDING U.S. PATENT APPLICATIONS (UNM-AFFILIATED)
Spectroscopy in Frequency, Time, and Position with Correlated Frequency Combs