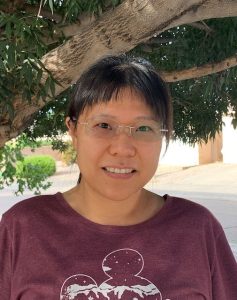 Rong Pan, Ph.D.
Research Assistant Professor
Department of Pharmaceutical Science
The University of New Mexico
Dr. Pan's research areas include: (1) The role of zinc in acute brain damage and recovery following ischemic stroke. (2) Biomarkers for assessing blood brain barrier damage before thrombolysis to predict the risk of intracranial hemorrhage after thrombolysis. (3) The role of endogenous zinc protoporphyrin in hemorrhagic stroke-induced bran damage.
ISSUED U.S. PATENTS (UNM-AFFILIATED)
9,599,625     Blood Biomarker for Early Blood Brain Barrier Disruption in Ischemic Stroke, issued March 21, 2017
9,606,129     Blood Biomarker for Early Blood Brain Barrier Disruption in Ischemic Stroke, issued March 28, 2017
10,254,295    Blood Biomarker for Early Blood Brain Barrier Disruption in Ischemic Stroke, issued April 9, 2019
10,591,491     Blood Biomarker for Early Blood Brain Barrier Disruption in Ischemic Stroke, issued March 17, 2020
PENDING U.S. PATENT APPLICATIONS (UNM-AFFILIATED)
Compositions and Methods for Treating Hemorrhagic Stroke