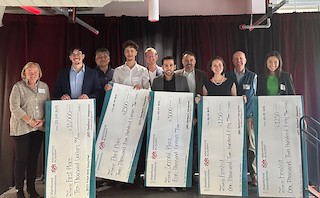 Albuquerque, NM – May 5, 2023 – Five teams of university students presented their innovative business and startup ideas to a supportive audience of investors and members of the business community at the Lobo Rainforest Building and walked away with cash prizes following an inspiring evening.
The 2023 Pitch Deck Competition was co-hosted by UNM Rainforest Innovations (UNMRI) and the UNM Innovation Academy, the University of New Mexico's technology-transfer and economic-development organization and entrepreneurial studies program. Sponsored by the UNM Rainforest Innovations Board of Directors, the competition offered a platform for student entrepreneurs who want to start, or are already operating an early-stage company, to present and launch their innovations. UNMRI provided a $20,000 prize pool for the five finalists who pitched their innovative ideas and early-stage companies to investor judges.
Opening remarks were given by Garnett S. Stokes, President of the University of New Mexico followed by Alex Hafez, VP of Operations & Corporate Development of Circular Genomics. Alex won the 2021 pitch deck competition and since then the company he co-founded has made incredible strides to develop their technology. In December 2021, the company closed on a $4.5 million series seed investment round and earlier this year they were awarded a $25,000 New Mexico Science and Technology Startup Grant.
Rob DelCampo, Ph.D., Sr. Executive Director, Corporate & Community Engagement, Executive Director, UNM Innovation Academy, Rutledge Professor of Management, Anderson School of Management and Lisa Kuuttila, CEO & Chief Economic Development Officer of UNM Rainforest Innovations emceed the event. The judges for the evening included Alex Greenberg, Managing Director of Cerracap Ventures; Peter Schmitz, Partner of Tamarindo Partners LLC; and Ray Quintana, Global President of Devvio, Inc.
The winners were:
First Place $10,000 Prize – CeraScape Electrochemical Ceramics – Luke Denoyer, Chemical & Biological Engineering, UNM
Second Place $5,000 Prize – PÍCA – Prosthetic Implant for CMC Arthritis – Dimitri Madden, Mechanical Engineering, UNM
Third Place $2,500 Prize – EatWell Solutions – Younes Slaoui, Computer Science & Fermin Ramos, Computer Science, UNM
Finalist $1,250 Prize – Green Employment Experience – Hannah Hunter, Journalism and Media Studies, NMSU
Finalist $1,250 Prize – Plover Oral Care – Tracy Mallette, Biomedical Engineering, UNM
"The students' creativity and entrepreneurship were truly impressive, making the Pitch Deck Competition a resounding success," remarked Lisa Kuuttila, CEO & Chief Economic Development Officer of UNM Rainforest Innovations. "It's always inspiring to witness the fresh and innovative ideas that university students in New Mexico bring to the table, and these awards can play a significant role in supporting their endeavors."
Pitch deck competitions expand beyond the traditional elevator pitch by incorporating visual aids and summaries that showcase a new company's business plan or startup vision. The objectives of a pitch deck are to capture the attention of potential investors, facilitate meetings with investors, and provide entrepreneurs with valuable experience in delivering presentations to audiences. Judges assessed various criteria such as a clear value proposition, valid market fit, and understanding of what capital investment might be required to move towards commercialization.