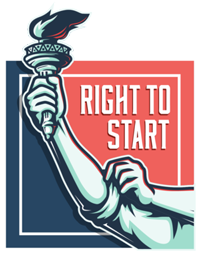 The Right to Start Movement is seeking signers for their Statement of Principles. During the election season of 2024, they will deliver the Statement with all signatures to the U.S. President, leading presidential candidates, the U.S. House Speaker and Senate Majority Leader, all 50 state governors, and other elected officials, urging them to pursue policies that advance these principles.
Learn more and sign the Statement of Principles here: https://www.righttostart.org/statement.
Right to Start is a campaign to rebuild the American economy by making entrepreneurial opportunity a top priority in every community. They drive civic change through grassroots organizing and mobilizing, policy advocacy and engagement, and lifting the voices of entrepreneurs through media and storytelling. Visit their website to learn more: https://www.righttostart.org/.