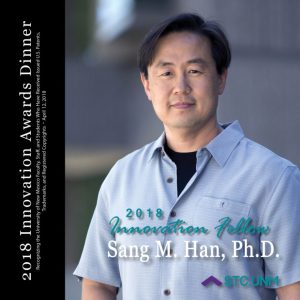 The researcher and inventor we honor tonight as the 2018 STC.UNM Innovation Fellow is an individual whose imagination is in perfect sync with the problem- solving inclinations of his engineering mind. Dr. Sang M. Han has over 25 years of experience in developing unique technologies that combine elements of chemical and electrical engineering that are providing solutions to energy consumption and renewability and medical diagnostics.
His inventions are focused on improving semiconducting materials for photovoltaic systems such as solar cells and panels and creating coatings to keep our bodies and buildings cool without electricity. Other inventions are centered on designing nanofluidic systems in tiny devices, often referred to as lab-on-a-chip structures, that separate and analyze proteins and DNA for diagnosing disease. Still other innovations aim to harvest energy from urban environments to provide continuous power to our mobile devices. As he explains, "By trade, I'm a chemical engineer. I work largely in the area of electronic materials and fabrication. This has been my main research focus for the last eighteen years here at UNM."
Dr. Han received his B.S. in chemical engineering, with honors, from the University of California at Berkeley and his Ph.D. in chemical engineering from the University of California at Santa Barbara. After postdoctoral work with Dr. Roya Maboudian at UC Berkeley and with Dr. Neil Benjamin at the Lam Research Corporation, Dr. Han joined UNM's Department of Chemical & Biological Engineering (CBE) (formerly the Department of Chemical & Nuclear Engineering) in 2000 as an assistant professor. He is currently a professor in both the CBE and the Department of Electrical & Computer Engineering (ECE) and associate chair of the CBE. In 2015, he received the honorary title of Regents Professor for his research and teaching excellence. His teaching and research awards include the UNM School of Engineering Teaching Award in 2012, the UNM School of Engineering Junior Faculty Research Excellence Award in 2005, and an NSF CAREER Award in 2001. In 2014, Dr. Han became Director of the NanoScience & MicroSystems Engineering Program, a joint, interdisciplinary graduate degree program in nanoscience and nanotechnology offered by the School of Engineering and the College of Arts & Sciences.
During his time at UNM, Dr. Han has excelled as an inventor as well. He has disclosed 26 technologies and received 17 UNM- affiliated issued patents, and is the recipient of consecutive STC innovation awards from 2009-2018 for a valuable and varied portfolio of discoveries. His metal matrix composite and radiative cooling technologies are optioned to two local startups—Osazda Energy, LLC and Osazda Materials, Inc. He is also the Chief Technology Officer for both companies.
UNM Technologies—Defining the Problem and Imagining the Solution
Dr. Han's large semiconducting materials portfolio has applications not only for photovoltaics but for other areas as well. His silicon-germanium, lattice-mismatched material systems is a method for forming multifunction chips that will be important for the development of future optical and electronic devices. His germanium quantum-dot technology for creating a 2D array of germanium quantum dots on a silicon- germanium substrate could significantly reduce fabrication costs. His portfolio of nanofluidic technologies represent an improvement over current techniques for protein separation to find biomarkers for the presence of disease. His lab-on- a-chip sensor platform detects multiple cardiac biomarkers from a microliter blood sample in real time. Lately, Dr. Han's group has been focused on developing three technologies to solve problems with solar panel durability, energy efficiency/conservation, and better hospital feeding tubes.
Solar cells today are becoming thinner and thinner to reduce cost and weight and improve performance. However, this trend makes them more susceptible to cracking through to the metal contacts and leading to substantial power loss.
"I am really excited right now about three inventions. One has to do with making your solar panels last longer. Typically, vendors want them to last maybe 15 to 20 years. Solar cells and panels degrade, whether it's from transportation, installation, or simply weathering over 10 to 20 years. When they crack, you lose power. We're trying to figure out a way to make them last maybe even double that so the actual cost of electricity will come down and we'll have a better chance of competing with fossil-fuel generated electricity. So, this is what we're trying to do with the metal matrix composite technology that's part of startup Osazda Energy."
"Carbon nanotubes (CNTs) have been around for a while. There are many groups working on composite materials using carbon nanotubes. CNTs are mechanically strong and have good electrical/thermal conductivity. What we're doing with the MMC technology is using low-cost, abundant, manufacturable, scalable multi-walled carbon nanotubes. Multi walled means instead of having a single tube, you have multiple tubes that are concentric—rolled up and up. They are cheaper than single tubes. We're using these multi- walled tubes, properly surface functionalizing them (I'm geeking out for a second), that is, putting chemical groups on the surface to make them really chemically bond to metal. Metal doesn't like carbon and carbon doesn't like metal. One way to make them like each other is to make these special functional chemical groups on the surface of these tubes."
"So, when we deposit the tubes with their unique chemistry onto the solar cell's silver metal matrix, they adhere to the metal very strongly. The silver gridlines are very spaghetti- like, very long—imagine Gumby (clay animation character). Gumby is kind of stretchy, kind of pliable, so the silver lines that we're depositing are rather like Gumby, kind of stretchy. But if you stretch the body long enough, it will break and fail, and that's what we're trying to prevent by putting these conductive needles, the carbon nanotubes, into the body. Carbon nanotubes allow you to stretch out further and, even if your body breaks, the conductive needles actually connect the broken parts and electrically bridge them. By putting these conductive needles into the metal matrix to electrically bridge these cracks, solar cells and panels will be able to produce electricity over a longer period. We're reaching out to both the roof-top photovoltaic and space photovoltaic device markets right now."
Radiative cooling, a passive cooling strategy for cooling without electricity, is achieved by blocking sunlight to reduce light absorption by materials so that they maintain a temperature below ambient air. The materials passively cool down by radiating heat in the infrared radiation spectrum.
"The second technology, radiative cooling, is conceptually very exciting and we're getting some great field results right now. The invention is a coating that rejects all sunlight. Imagine 97-degree summer heat here in New Mexico— direct, intense solar radiation. You can walk outside and with this coating, or paint, you can essentially block out all the sunlight while losing heat in the mid-infrared region. Without having to expend any electricity, your temperature will be lower than the ambient temperature. The savings that you would get from this type of cooling would more than outweigh the cost you would have to pay to heat up residential and commercial buildings, for example. This technology has huge implications in saving energy and giving people the benefit of saving on their utility bills. We're also looking at textiles where instead of using the paint, we would convert polyethylene into a fabric form that would also allow you to cool your body off since the fabric would breathe while it's blocking the sun."
"The idea of passive, radiative cooling has been around since the 1960s. It's gotten new momentum in recent years, especially by the work that was done by a Stanford group. What's different about our technology is that the competing groups—whether it's Stanford or CU Boulder— is that they're using very expensive technologies that would cost you an arm and leg to produce. Yes, conceptually they work but will they ever be practiced in real life in a low-cost paint format? Absolutely not. This is the clear advantage that we offer. Our solution is inexpensive, manufacturable, and scalable so that everyone can benefit. This is what sets our technology apart from other approaches."
"By the way, I really want to recognize my co-inventor, Assistant Professor Sang Eon Han, a brilliant colleague whom I'm working with. He is truly the intellectual leader of this technology. I provide, essentially, processing knowledge and translate into practice what he theorizes into an idea. The collaboration has worked out really well."
The third technology is a new nasogastric feeding tube. When patients are admitted to the intensive care unit, their recovery depends on getting vital nutrients and medicines through feeding tubes. The tube is inserted through the nose and positioned manually into the small intestine. The position of the tube is verified with frequent exposure to harmful ionizing radiation. For these critical patients, fast, accurate, and safer tube placement is extremely important.
"This technology is the result of a biodesign course at UNM. About two years ago, trauma surgeon Dr. Tom Howdieshell from UNM Hospital's Trauma & Critical Care Program Center (the only level I trauma center in New Mexico) came to us with the following problem. If a patient comes in completely unconscious and you need to feed him or her nutrients and medication, the last thing you want to do is have your patient aspirate, or choke. So doctors use a feeding tube that goes through the nose and nasal cavity, all the way down to the stomach and into the small intestine. You cannot leave the tip in the stomach but rather it has to make its way all the way down to the small intestine so that when you feed the patient, he or she doesn't aspirate. It turns out that it's not an easy thing to do. Even for skilled nursing staff, it takes them anywhere from half an hour to hours. So, positioning it properly and knowing exactly where the tip is going is very important."
"The technology we are developing visualizes where that feeding tube tip is in the body. So, if a patient comes in, the doctor or nurse, using this type of augmented reality, would be able to see where the tube is with our cordless, portable, lightweight device, which is positioned over the patient. The technology uses a sophisticated video tracking software to provide a 3D image of the patient's abdomen."
Future Research and Applications
As a prolific inventor whose imagination is always looking ahead, Dr. Han reflects on his future research and how he can engineer it for useful purposes.
"I'd like to comment on an extension of what we're doing now. In the future, we may encounter extreme weather conditions, extreme cold or extreme heat on earth or in outer space, and I really want to develop composite material systems that show really strong reliability and resiliency under these extreme conditions. Understanding the architecture and function of small structures in materials is important to developing these composite materials. Imagine magnifying whatever the material is that you are looking at on a very small scale—that is, you have a magnifying glass that can blow it up and then magnify it down to a very small scale. You are looking at its microstructure, or what people sometimes call nanostructure. It would be a huge accomplishment if you could actually predict how that composite material would behave by simply looking at the microstructure. What we are trying to do in our group is at the fundamental level. Can we actually predict the material properties at the macroscopic scale by looking at a very small-scale structure? We are trying to intellectually bridge that gap, and while doing so, create material systems that are very resilient under extreme conditions. This is the future direction that we're taking."
"Another exciting area that we're working on has to do with chip fabrication—it's even more abstract so I'll have to really geek out! In the old days when you created electronic devices—whether it was microchips in your computer or small chips in your cell phone, filters, microprocessors, and logic devices, typically you fabricated them either by depositing thin films or by carving out very small features using what we call dry processing. Lately, we're trying to see if we can create some of these circuits using a thermo-mechanical trigger. This is a fancy way of saying, can we use heat and mechanical stimulation to create the circuit, and also upon demand can we completely erase it? Can we actually create, using a thermo- mechanical trigger, writeable and re-writeable circuitry? For example, let's say you create the circuit and somehow the whole computer has been compromised by an adversary and you want to wipe that out. You can use a thermal trigger to do it and then no one can find out what you've done with that circuit. Imagine that. This is what we're pursuing."
"With the radiative cooling technology, we would love to see that being used in remote areas of Africa where there's no air conditioning and no electricity. If people could stay a little more comfortable at the very low cost of a simple commercial paint, that would be great wouldn't it? If you could cool down your building, that would be tremendous. Can you imagine using that coating for transportation, on eighteen wheelers, transporting something that has to be kept at a freezing temperature, or even delivering medications to remote areas in a medication box that can be kept cool without having to use dry ice, electricity, or batteries?"
"These are the extensions of the technologies that we would like to eventually pursue."
Transforming Education
University curriculums and research activities are becoming more and more interdisciplinary and funding agencies are reflecting this in their grant requirements. Dr. Han is a prime example of an interdisciplinary researcher and inventor who is also an exceptional educational leader. He has mentored and collaborated with numerous students from high school to doctoral level and has a long track record of involving underrepresented students (women, minorities, and first-generation college students) in graduate and undergraduate research. In 2014, he was appointed director of the interdisciplinary NanoScience & MicroSystems Engineering (NSME) Program. He is also a co-PI on two influential grants focused on attracting underrepresented students to engineering and revitalizing engineering and science education to attract and graduate a more diverse group of engineering students.
The NSME program at UNM was created in 2004 to answer the needs of the growing fields of nanoscience and nanotechnology, which draw from multiple disciplines. NSME is a joint graduate degree program offered by the School of Engineering and the College of Arts & Sciences, involving more than 70 faculty from nine academic departments, including those in UNM's business and medical schools, who teach integrated, graduate-level courses in nanoscience and microsystems technology. The students in the program come from diverse academic backgrounds, such as math, biology, physics, chemistry and engineering, and design their own research problems, working with faculty researchers in labs across campus. The biodesign course that produced the new feeding tube technology is an example of this collaborative approach. Students in the program gain a broad perspective and unique skills in these areas that prepare them for jobs in industry, academia and national labs. Under Dr. Han's leadership, the NSME launched an annual STEM research symposium in 2016 for graduate students in NSME, the Department of Chemical & Biological Engineering, and the Center for Biomedical Engineering. The symposium provides a venue for these students to present their research to the general public. At this year's event, 27 graduate students presented from the following departments and programs: biology, biomedical engineering, biomedical sciences, chemical and biological engineering, chemistry, civil engineering, nanoscience and microsystems engineering, pathology, and physics.
As Director of NSME, Dr. Han is responsible for securing graduate fellowships for the students in the program. He has successfully secured a GAANN grant from the Department of Education. The GAANN (Graduate Assistance in Areas of National Need) grant provides fellowships to incoming NSME PhD students who have financial need. Underrepresented students are strongly promoted for the fellowships, which are focused on providing technical skills in nanomanufacturing, leadership skills, interpersonal skills, and skills in critical and creative thinking and problem-solving. Other fellowships and internships he has successfully helped students secure include the DHS Graduate Fellowship Program and the Air Force Research Laboratory Space Scholar Program.
Dr. Han is also helping to transform the way UNM teaches engineering. He is the co-PI on an NSF FACETS grant. The FACETS (Formation of Accomplished Chemical Engineers for Transforming Society) project addresses the need to produce more engineers to solve societal problems, such as clean water and environment, creating diverse and sustainable energy sources, and improving healthcare. The aim is to change how undergraduate engineering is taught to attract, engage, motivate, and retain engineering students who will become the engineers of tomorrow. The redesigned curriculum would engage students in solving real-world problems early on in their coursework rather than later. Helping students to make the connection between community- and industry- based needs for engineering solutions as they are learning the core curriculum will lead to a more diverse engineering workforce with creative problem-solving skills and real-world experience. The investigators foresee that the results of the project will be broadly applicable to all engineering disciplines. The value of the project's work is already receiving recognition. The researchers won Best Diversity Paper at the 2016 American Society for Engineering Education Conference.
Entrepreneurial Leaders Matter
Over the years, the Department of Chemical & Biological Engineering has led the way in the number entrepreneurial inventors at UNM. The Department of Electrical & Computer Engineering is a close second. Dr. Han, who has appointments in both departments, reflects on this productivity."I would call it a chain reaction. When I first arrived at UNM in 2000, there were clearly three leaders: Steve Brueck (ECE), Jeff Brinker (CBE), and Gabriel López (CBE). These scientists were the intellectual leaders that I looked up to. I would also include from CBE Abhaya Datye and Plamen Atanassov. These are the people who are not only outstanding scientists but really know how to translate their technologies for the marketplace. They were inspirational to me. I largely took my cue from them, watching them as they made science real by successfully commercializing it. I think that's why these departments have a large number of inventors. It's the culture that these leaders have inspired us to create."
"It is truly exciting to see my work come out of the lab and into the market through new companies Osazda Energy and Osazda Materials. I really want to give credit to my students and postdocs who actually do the bulk of the heavy lifting. They are the ones who really do the work and translate these technologies to market. Right now one of my former students and co-inventors, Dr. Omar Abudayyeh, was hired as lead scientist at the companies and is working to translate the technology into product. So, I want to give them full credit."
"I feel very humbled because I'm really surrounded by amazing scientists—my colleagues, staff members, postdocs, research professors—so being chosen for this award is an honor. There are many deserving colleagues here on campus and so I am truly thankful."
"The journey is exciting and a lot of fun. All this hard work is finally paying off. You are actually seeing your science making an impact in a tangible way. That brings me a lot of joy."
The STC.UNM Board of Directors is honored to present the 2018 STC.UNM Innovation Fellow Award to Dr. Sang M. Han.
Sandra Begay
Chair
STC.UNM Board of Directors