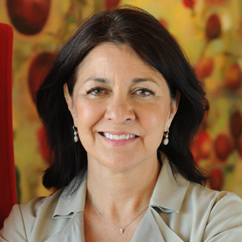 President, Principal, Contract Associates, Inc.
BBA – Marketing, UNM
MBA – UNM
Studies at La Universidad de Las Americas in Puebla, Mexico
Business/Research Background
Ms. Griego-Raby is President and Principal of Contract Associates, Inc., managing and leading a 40-member company with offices in Albuquerque and Santa Fe, New Mexico. Contract Associates provides contract furniture throughout the Southwest and Mexico. Ms. Griego-Raby also has experience as a professional fundraiser for Stanford University's Office of Development, training and directing alumni volunteers for the University's annual fund campaign, and as an administrative analyst for Amoco Production Company in Denver, Colorado, where she managed gas and oil field activities in northern Colorado, Kansas and Nebraska. 
Particular Knowledge and Skills
Ms. Griego-Raby's many awards and recognitions include Hispanic Business Magazine's Top 500 List for Largest U. S. Hispanic Owned Companies for 2002, 2003, 2004, 2005 and 2006; the Greater Albuquerque Chamber of Commerce Maxie Anderson Small Business Award for 2002; induction into the UNM Robert O. Anderson School of Management Hall of Fame for 2001; and the U. S. Hispanic Chamber of Commerce Business Woman of the Year award for 1999.
She currently sits on the boards of the State of New Mexico Board of Finance, the UNM Hospital Clinical Operations Board of Directors, the UNM Anderson School National Advisory Board, the Mountain States Insurance Board of Directors, and the NM Student Loans Guarantee Corporation Board of Directors. Ms. Griego-Raby is a former member of the UNM Board of Regents.