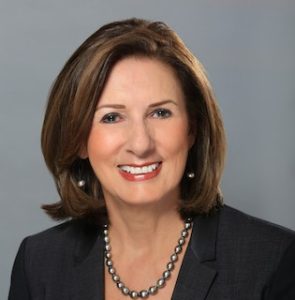 Founder, MLK Health and Wellness Community Development Corporation
B.A. – History, University of California, Los Angeles
Business/Research Background
Ms. Griego's diverse career encompasses civic leadership, entrepreneurship, government service, corporate and non-profit directorships, and philanthropy.
In 2016, she founded the non-profit MLK Health and Wellness Community Development Corporation focused on the 42-acre MLK Medical Campus in South Los Angeles.  Infrastructure projects include the newly opened Jacqueline Avant Children Center that houses the MLK Pediatric Clinic which serves 4,000 children and teens in foster care; and the renovated MLK Behavioral Health Center (former hospital). 
 Her entrepreneurial career includes real estate development and historical renovation of an abandoned 1912 firehouse in downtown Los Angeles into offices and a prominent 136-seat restaurant, Engine Co. No. 28, that she operated for over twenty years.  She also developed and operated two other restaurants and two bakeries in LA; and a fishing lodge in Chama, NM.
Ms. Griego's government service and appointments include Deputy of Mayor of Los Angeles in charge of economic development, President and CEO of the LA Community Development Bank focused on the HUD empowerment zone; and President and CEO of Rebuild LA, that entity charged with rebuilding following the 1992 Civil Unrest.  In her early career, she was a congressional staffer for the U.S. Senator (CA) and a U.S. Congressman (NM) in Washington, D.C.  She has also served on several commissions including most recently the Los Angeles County Economic Resiliency Taskforce, the LA Community Redevelopment Agency, Cultural Affairs Commission, Handicapped Access Commission, and the California Community College Board of Governors.
She serves on the board of directors of media and entertainment conglomerate Paramount Global (former ViacomCBS).  She has served on several boards of directors including Capital Group/American Funds, AECOM, Granite Construction, Southwest Water Company, City National Bank, First Interstate Bank, and the Federal Reserve Bank of San Francisco (Los Angeles director).  Service on non-profit boards of directors including the Martin Luther King, Jr. Community Hospital, Cedars Sinai Medical Center, Los Angeles Area Chamber of Commerce, the LA Convention Center, the YMCA of Metropolitan Los Angeles, and the Community Development Technologies Center.
For more than two decades, Ms. Griego has served as a trustee of philanthropic foundations, including the Robert Wood Johnson Foundation, the David and Lucile Packard Foundation, and the Ralph M. Parsons Foundation.  She also served as a trustee of the boards of the National Trust for Historic Preservation, the Charles R. Drew University of Medicine and Science and Art Center College of Design.
Particular Knowledge and Skills
Ms. Griego holds a Bachelor of Arts degree in History from UCLA.  In 2008, she was awarded the UCLA Medal, the highest honor bestowed by the university.  She serves on the UCLA Iris Cantor Women's Health Center; and is a former senior fellow of the UCLA School of Public Policy.  In 2022, Ms. Griego was awarded the Los Angeles Area Chamber of Commerce Civic Medal of Honor for her work at the MLK Medical Campus and decades of civic leadership in Los Angeles.  In 2020, she and her husband moved back to her native New Mexico after forty years in California.  Ms. Griego recently joined the advisory board of the UNM Innovate ABQ focused on economic development and job creation.