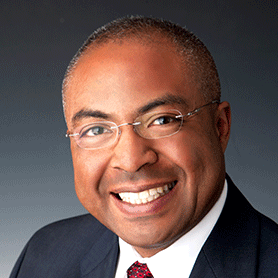 CEO, Blue Stone Strategy Partners
BA – Economics, University of New Mexico
MBA – New Mexico State University
PhD – Rural/Tribal Relations, Arizona State University
Business/Research Background
Dr. Luarkie is CEO of Blue Stone Strategy Partners, a privately held Native American-owned professional services, consulting, and advisory firm.  Blue Stone provides professional services to Native American tribes and Native businesses from coast-to-coast in economic development, strategy, healthcare, and human resources.
More recently, Dr. Luarkie served as President & CEO for Tamaya Ventures, the Pueblo of Santa Ana's economic arm.  He also has served as the Executive Director of the New Mexico Tech University Research Park Corporation and as the Director for New Venture Development in the Office of Innovation Commercialization at New Mexico Tech University.  This function was responsible for the marketing and commercialization of intellectual property, partner development, and market engagement.   He has been an entrepreneur and has served as CEO for the Emerging Equities Solutions Group and Digital Migration.  As part of his leadership journey, Dr. Luarkie also served as Governor for the Pueblo of Laguna, his home Pueblo. 
Particular Knowledge and Skills
Dr. Luarkie has a wealth of experience in executive leadership, business development and economic development, community engagement, and innovation roles. Dr. Luarkie serves as an advisory to the New Mexico Tribal Entrepreneurship Program, administered by UNMRI.