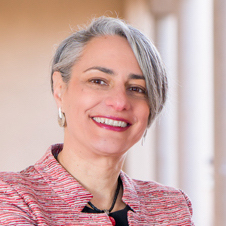 Jim and Ellen King Dean of Engineering and Computing
School of Engineering
Professor, Department of Civil, Construction and Environmental Engineering
University of New Mexico 
Ph.D. – Engineering and Public Policy, Carnegie Mellon University
M.S. – Engineering and Public Policy, Carnegie Mellon University
B.S.E – Chemical Engineering, Princeton University 
Business/Research Background
Dr. Riley is Jim and Ellen King Dean of Engineering and Computing and Professor in the Gerald May Department of Civil, Construction and Environmental Engineering at the University of New Mexico. Before joining UNM, Riley was the Kamyar Haghighi Head and Professor in the School of Engineering Education at Purdue University.  During her time at Purdue, she served as Director of Workforce Development for the ASPIRE Engineering Research Center, a 10-year NSF-funded project developing research, education, innovation, and industrial ecosystems supporting the electric vehicle transition, integrating wireless and wired charging with transportation and electric utility systems.
Previously, Dr. Riley was founding faculty member of the Picker Engineering Program at Smith College, the first engineering program at a U.S. women's college, where she spent 13 years.  From 2013-2015 she was Program Director for Engineering Education at the National Science Foundation.  Dr. Riley currently serves as Vice President of Scholarship for the American Society for Engineering Education and as a member of the Advisory Committee of the National Science Foundation's Engineering Directorate. 
Particular Knowledge and Skills
Dr. Riley is the author of two books, Engineering and Social Justice and Engineering Thermodynamics and 21st Century Energy Problems.  She has served as a Fulbright Specialist in New Zealand and an AAAS Science and Technology Policy Fellow at the US Environmental Protection Agency.  She is a fellow of the American Society for Engineering Education.