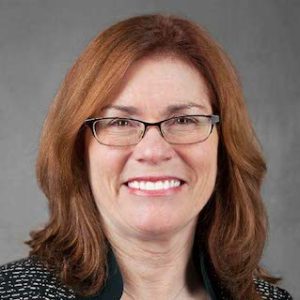 President, The University of New Mexico
BA – Psychology, Carson-Newman College, Jefferson City, Tennessee
MS – Industrial/Organizational Psychology, University of Georgia
PhD – Industrial/Organizational Psychology, University of Georgia 
Business/Research Background
Garnett S. Stokes was selected as the 23rd president of The University of New Mexico on November 2, 2017, and took office on March 1, 2018.
Dr. Stokes has a long history of leadership in public higher education. She has served as interim chancellor, provost and executive vice chancellor for academic affairs at the University of Missouri (MU); as provost and executive vice president for academic affairs and interim president at Florida State University (FSU); and as a faculty member—chair of the department of psychology and dean of the Franklin College of Arts and Sciences at the University of Georgia (UGA).
A first-generation college graduate, Dr. Stokes earned a B.A. in psychology from Carson-Newman College in Jefferson City, Tennessee, and M.S. and Ph.D. degrees from the University of Georgia in industrial/organizational psychology.
Her research has focused on personnel selection and promotion, specifically the use of biographical information in job selection and promotion decisions. As a consultant, Dr. Stokes has assisted businesses, government agencies and Fortune 500 companies in the development of their hiring procedures. 
Particular Knowledge and Skills
Throughout her distinguished career, Dr. Stokes has advocated for an aggressive agenda for transforming the student experience and strengthening the ranks of the faculty and the environment that supports them. During her tenure at the University of Missouri, she was praised for building an outstanding and diverse leadership team dedicated to student success. Under her direction, the university established the Office of Civil Rights and Title IX. As interim president at Florida State, Dr. Stokes created a task force to address sexual and domestic violence and spearheaded the university's "kNOw MORE" campaign. She also led FSU's Diversity and Inclusion Council Committee on Recruitment and Retention while she was provost.
Dr. Stokes is a fellow of the Association for Psychological Science, the American Psychological Association, and the Society for Industrial and Organizational Psychology.
Dr. Stokes is the first female president in UNM's 129-year history. Her husband, Dr. Jeff Younggren, is a forensic psychologist and a retired Colonel in the U.S. Army. They have two grown children and four grandchildren.  They reside on campus at University House.