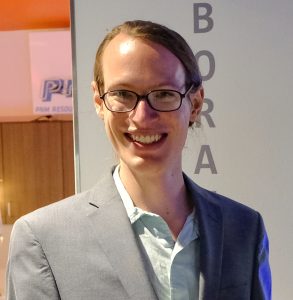 Albuquerque Business First and New Mexico Inno have announced their annual Inno Under 25 List which recognizes young innovators making big efforts to advance the state's growing innovation ecosystem.
Among the five honorees chosen this year was Chris Fetrow, a doctoral student at UNM. He has worked with UNM assistant professor Shuya Wei, PhD, to develop aluminum batteries as an alternative to lithium-ion batteries. They later founded Flow Aluminum to commercialize the technology with the support of local businessperson Tom Chepucavage. They have participated in many of UNM Rainforest Innovations' programs over the years, including the 2022 UNM Rainforest Innovations' Student Pitch Competition where they won first place and $10,000 cash prize; in 2022 they received $25,000 through the Gap Fund @ UNM program; and they participated in the fall 2022 Rainforest Accelerator Program which teaches UNM teams of entrepreneurial-minded faculty and students on how to transition their STEM-related technology to the marketplace.
Congratulations to Chris on his selection on the Inno Under 25 List!
Read Jacob Maranda's October 13 article, "Inno Under 25: How can we make better batteries? Chris Fetrow has some ideas," on the New Mexico Inno website here: https://www.bizjournals.com/albuquerque/inno/stories/awards/2023/10/13/inno-under-25-chris-fetrow.html
See also, "New Startup Flow Aluminum Developing Low Cost, Aluminum-Based Batteries," on the UNM Rainforest Innovations website here: https://innovations.unm.edu/2023/10/02/new-startup-flow-aluminum-developing-low-cost-aluminum-based-batteries/